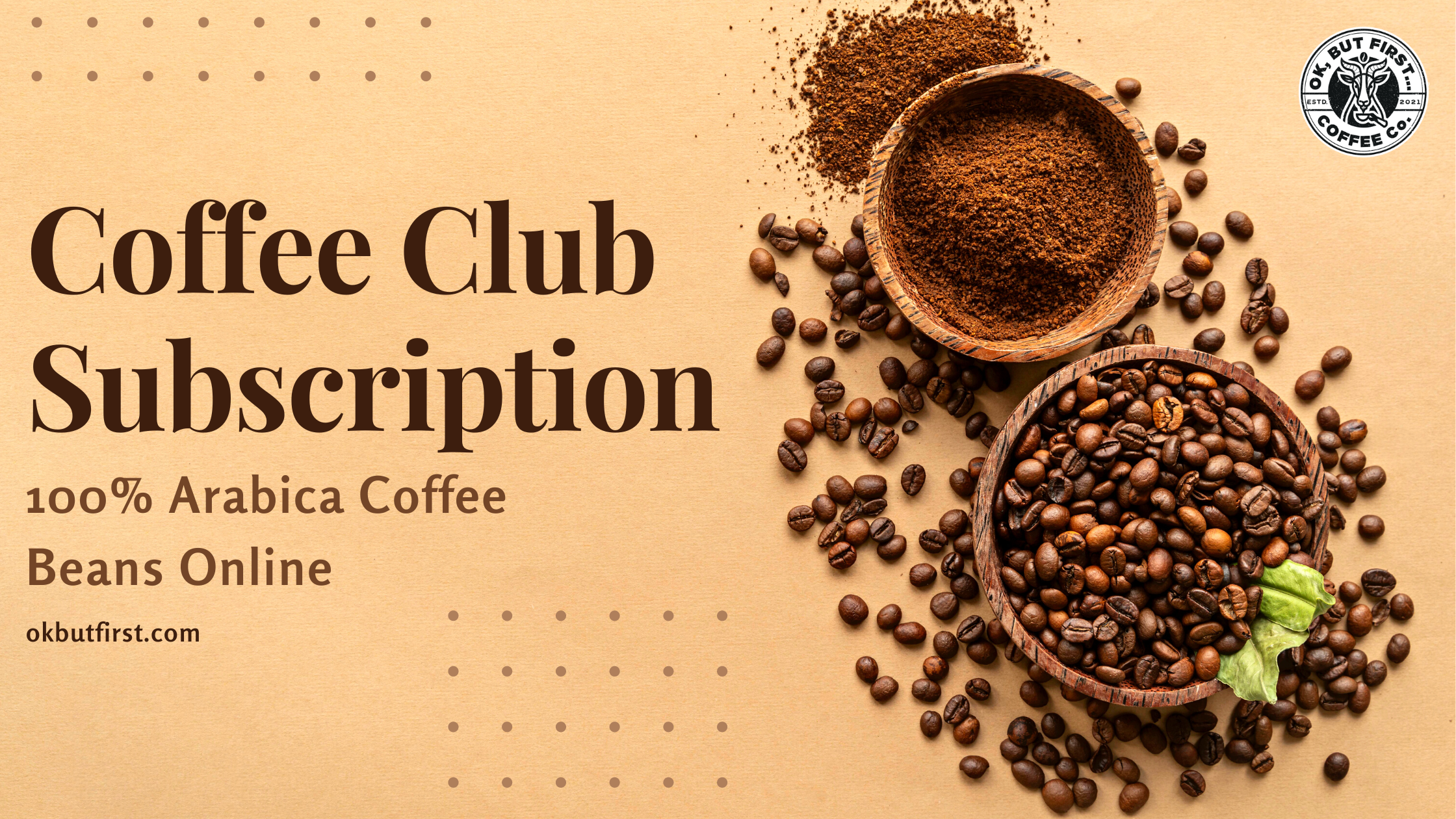 OK But First Coffee Club Subscription
When you hear the coffee, the first thing that comes to mind is energy. Yes, caffeine is the major reason for many to drink java on a daily basis, but there's so much more about this beverage that makes it supreme. Instant coffee peeps, read on to understand specialty coffee and why it is the ideal choice. Specialty coffee lovers, read on to know all about an elite coffee club subscription that's worth joining! I'll also mention some mind-blowing facts to keep it all upbeat.
"The world consumed about 167 million 60 kilogram bags of coffee in 2020/2021"
In case you are here to just go straight to join the membership because you know it all, visit the Ok But First Coffee website. This roasted coffee beans company delivers responsibly sourced and artisan-crafted 100% Arabica coffee beans across the US at remarkably sharp rates.
For people who have just entered the gates of specialty coffee heaven, what's your first question? Do you want to know why are you here and what is this Arabica coffee bean that most of the world populace is talking about? If not, chillax, the blog will begin with basic explanations.
First and foremost, specialty coffee is any java that gets an 80 or above grade by the Specialty Coffee Association. Second, Arabica coffee beans are the granules responsible for most of these gourmet beverages. They originated in Ethiopia and today make up for about 75% of global coffee demand. The major producers of these beans are Brazil, Vietnam, & Columbia.
Why Is The World So Enthusiastic For Arabica Coffee Beans? What Makes It Special?
A question that pops up in the mind of every instant coffee drinker! What does my coffee lack that a specialty coffee cup can fulfill? Well, you need to understand the difference between Robusta and Arabica beans to get hold of what it is all about and what makes the contrast.
Robusta coffee beans have significantly higher caffeine content than Arabica, but they taste rubbery and may give you acid kickbacks. They are inferior in quality and act as fillers for many premium products. It's easier to farm them and the companies in the instant coffee business do not care whether the berries have reached optimal plucking age or not. The machines just take down entire farms at the word go as the producers have to maintain a particular supply rate.
On the other hand, Arabica coffee beans possess the ideal balance between caffeine, aroma, and flavor. They make cups of joe that taste sublime and provide several health benefits. The companies dealing in whole bean markets ensure that the coffee products packed to distribute contain freshly roasted beans and also make sure that farmers only pick berries that have achieved optimal plucking age. This helps maintain the richness and taste of your beloved java.
Now that you understand the fundamentals of why Arabica coffee beans are better, we'll dive into what's making them so popular in recent times. The specialty coffee market has existed for decades, but the rise in the last five years is phenomenal. What led to such a revolution? There are 3 main factors that came into play in the last 5 years that led to such growth. They are:
Trend & Hype
The millennials started a movement that made specialty coffee famous across continents. Remember Dalgona? Many such trends and hyped campaigns around the globe brought attention to coffee beans. These made people aware of the fact that they are missing out on an experience in life and packs of Arabica coffee beans are way better than sachets of instant coffee. The social media surge played a huge role in influencing more and more people to pick specialty coffee as their daily beverage.


Convenience & Affordability
The availability of Arabica coffee beans took a huge jump. One could buy coffee beans online and enjoy specialty coffee at home. Several businesses popped up worldwide and started selling roasted coffee beans of different flavors at considerably low rates.

Even the middle class could now afford to have this rich beverage on a daily basis. The market reach expanded and so did the popularity. The surge in demand captivated the eyes of big-money holders and they started investing in this market as well. This rocketed Arabica coffee beans supply, feeding the surging demand, and creating more.
"The global coffee market will observe a CAGR of about 6% from 2020 to 2026."
Health Awareness
The Covid19 pandemic got people thinking about their health and ways of maintaining their immune system strength. Arabica coffee beans contain many nutrients that help in keeping your vitals stable. These also include contents that assist in decreasing the risk of type-2 diabetes, counter certain cancers, and avoiding diseases like dementia, Alzheimer's, as well as, Parkinson's. Caffeine is great for the mind in distress. The onset of these tough times made several choose specialty coffee as it calmed their nerves.
Furthermore, the variety in flavors offered by whole bean coffee companies increased and people got numerous options. Instant coffee comes in standard flavors, whereas Arabica coffee beans include tones of special ingredients such as grapefruit, oak, plum, hazelnut, and more.
OKBF is a budding company that offers exclusive coffee products made from special graded coffee beans. They do not compromise on quality and ensure that their consumers receive freshly roasted coffee beans on time. The website also presents a coffee calculator for everyone to measure their java needs and order accordingly. Three of their amazing packs are as follows.
Mornin' Kick
It contains coffee beans from Columbia. These 100% Arabica coffee beans go through an artisan-crafted process that includes exceptional items such as Brazil nuts, grapefruit, and oak. This 12-ounce bag of delight is ideal for your lazy beginnings.


Midday Stroll
It contains beans from Central & South America. These special coffee beans come from an exclusively selected farm and include notable items such as brown sugar, hazelnut, and plum. Let this pack of little treats inspire your next 'aha' moment.


Chill Thirty
It contains beans from the public-voted coffee capital Brazil. These roasted coffee beans grown under optimal climate and altitude taste majestic. The process includes striking items such as smoky raspberry, dark chocolate, and anise. Acquire this bliss now!
The Ok But First Coffee club subscription offers great discounts on the products, bumps you up to receive freshly roasted batches, and takes away all your worry about maintaining java frequency. The elite club also qualifies you for free delivery and provides access to like-minded people. Live a life with the best coffee and greatly intellectual people to talk about it.
Conclusion
In the end, hope that you have all the information that you were seeking. To summarise the details in a few sentences, Arabica coffee beans are better than Robusta beans, Specialty coffee popularity is on the rise prompting many to get on the bandwagon, and the Ok But First Coffee club subscription is a great pick for roasted coffee bean enthusiasts across the US.
"The world intakes 3 billion cups of coffee daily & soon will cross the 5 billion mark."
We are all creatures of habit and thus it can feel difficult to switch from instant coffee to specialty coffee in the beginning, but trust me, the effort is nothing in comparison to the level of satisfaction one receives at the first whiff and sip of these cups of pure euphoria!