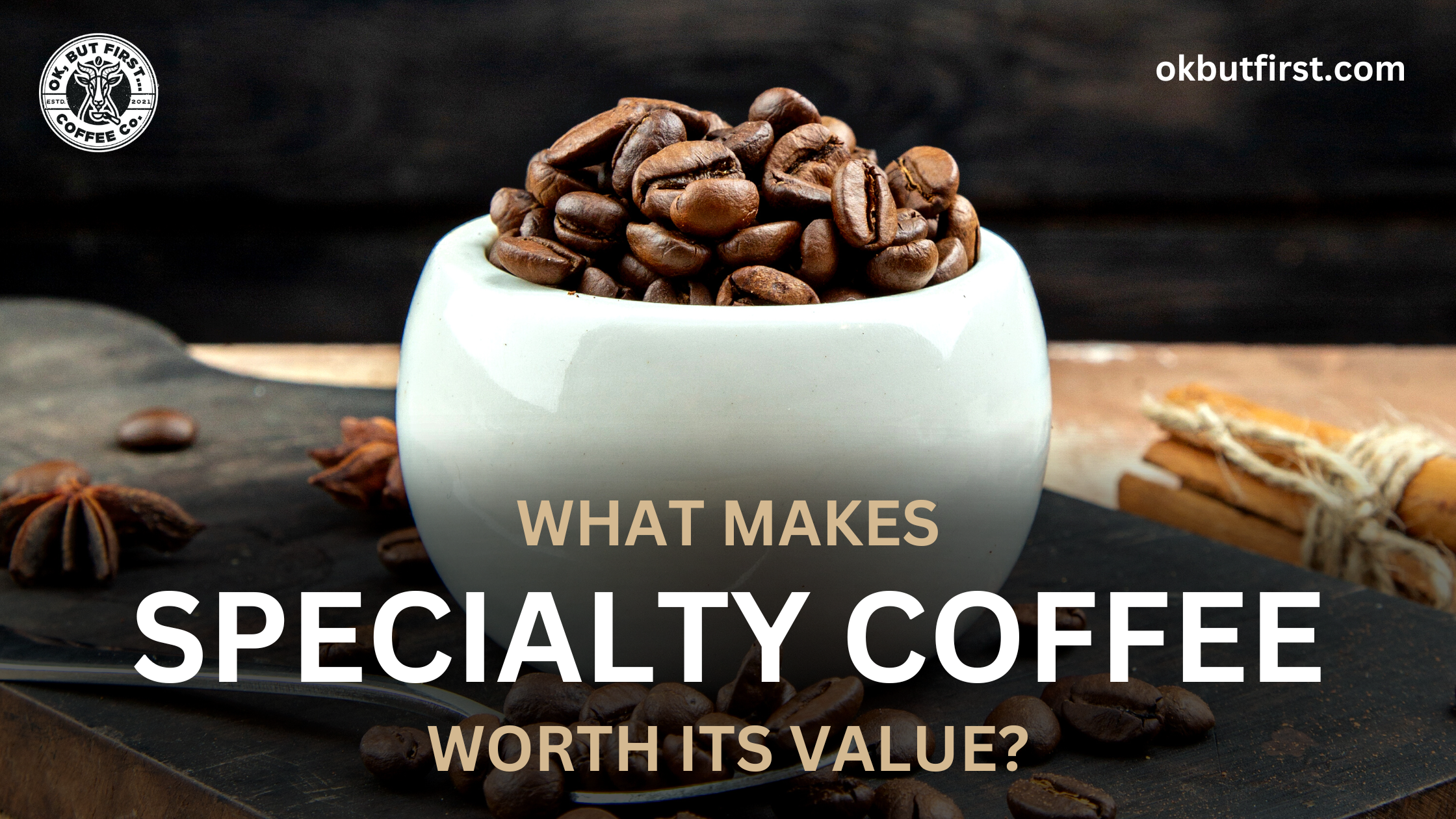 What Makes Specialty Coffee Worth Its Value? OK But First
Our surroundings are filled with products made from coffee beans. We have treated caffeine as our go-to element to power up our bodies with energy. Specialty coffee is a beverage many love to consume in various flavors, and at different times. Some consume the drink made from lightly roasted coffee beans, while others prefer java made from medium roasts or dark roasts.
In case you are new to the topic, do check out our Coffee 101 page. We have detailed blogs on Arabica coffee beans, and subjects related to them. Moreover, the site has a web store with three flagship products to soothe your java cravings. Let's get back to the topic.
Specialty coffee is a beverage that has no primary defects and less than 5 secondary defects. It is usually made from Arabica beans from across the planet. These grow close to the equator and possess the ideal balance between caffeine content, aroma, acidity, and sugar elements.

We find this drink being sold in cafes at a premium price, but do you know that you can experience them without breaking the bank? Yes, it is much more feasible when you buy coffee beans online and grind them at home. You just need to know a few essentials to enjoy your favorite brew sitting comfortably on a couch, writing, reading, or watching your favorite shows.
The beverage is made from premium coffee beans and there are several reasons that make it right for your daily consumption. Yes, daily. The myth that coffee can is wrong. Excess of it can cause issues. But if you see it from a wide point of view, excess of everything can cause trouble.
Source
Arabica coffee beans take longer than any other coffee beans to reach from farm to cup. The plants require extra care and the conditions around them need to be maintained throughout their lifespan. Moreover, the roasting process crafted by artisans to make the end result taste amazing requires loads of research, testing, and resources.

Specialty coffee is the outcome of hard labor and thus justifies the value it commands. The purity of this drink helps the human body in many ways, which we will learn in the next point.

Adding to the brief, the online marketplaces that sell coffee beans also give out ample information about the products. This helps consumers get a good idea of what they are buying and why. One can trace the coffee beans in these packs to their origin. For your information, OKBF offers roasted coffee beans from Brazil, Colombia, and Central South America.


Health Benefits
Coffee made from 100% Arabica coffee beans offer a range of advantages. When consumed aptly, it can help one counter the side effects of depression. A rising mental health issue globally. It can help many prevent the risk of certain cancers, as well as, type2 diabetes.

The nutrients from the beverage help strengthen the immune system as well. A much-needed factor after the recent pandemic scare. People have grown aware of the perils of having weak immunity and recent trends suggest that demand for organic things has thus increased.

Coffee beans sourced from exclusively selected farm locations go through rigorous sorting and cleaning before they arrive for roasting. The local roasters ensure that the consumers get quality at the best price.

Whereas, mass producers of coffee, be it in powdered or bean form use Robusta fillers. This spikes caffeine levels but at the cost of health benefits. If you wish to intake caffeine made from truly pure Arabica beans, grab a pack from the OKBF web store now.


Diversity
Lastly, the sheer variety of specialty coffee available in the market adds to its value. Coffee beans can be ground and used in various ways to make a beverage of your choice. Moreover, there are several flavors of these beans available in the market. Now, multiply the number of flavors by the number of specialty drink varieties and you'll reach a surprising figure.

Java fanatics do not get such variety with powered products as they are produced in flavors loved by the masses. Coffee beans on the other hand are made after numerous experiments and thus the variety exists. This range of available options makes it valuable.

Do you know that Brazil is responsible for 60+ million bags, Colombia for 14+ million bags, Ethiopia for 7.5 million bags, and Vietnam for about 25+ million bags of premium coffee beans being confused worldwide?
Globally Conscious Java
The history of coffee is bleak. There are several matters of farmers being oppressed, slavery, and poverty. Well, it is all changing due to the inclination toward global ethic consciousness, and spearheading this movement are specialty coffees. Roasters from this industry participate in direct trade sourcing by traveling to farm locations and forging long-term relationships.
This not only raises the bar of quality but also encourages greater sustainability, as well as, enhances the overall prosperity of the farmers. Isn't this worth spending a few extra bucks?
Now that you have an idea of what makes specialty coffee worth its value, we guess you must be seeking a way to get them. There are two ways to buy coffee beans online, one pack at a time, or a subscription. We suggest the second because it is the ideal way to enjoy rich java.
You don't have to worry about ordering frequently and keeping the jar filled with your favorite little delights. Moreover, if you purchase the OKBF coffee club subscription, you get benefits such as discounts, free delivery, fresher batches, and more. The three products on offer are:
Mornin' Kick

The pack provides medium roasted beans sourced from the mountainous farmlands of Columbia. It offers flavors of Brazil nuts, grapefruit, and oak.


Midday Stroll

The pack provides medium-dark roasted beans sourced from the fertile lands of Central & South America. It offers flavors of brown sugar, hazelnut, and plum.


Chill Thirty

The pack provides dark-roasted beans sourced from exclusively selected farm locations in Brazil. It offers flavors of smoky raspberry, dark chocolate, and anise.
The factor that makes all coffee products worth experiencing is their purity. Artisans at OKBF have taken the time to choose the best coffee greens, curated an ideal process to roast these delights, and used the right packages to store and ship them. Every pack has a one-way air valve to let the coffee beans de-gas without risking oxidation. The freshly roasted coffee beans stay crisp for weeks because of it and result in beverages capable of taking your breath away!
Conclusion
In the end, we hope that all your queries are resolved. In case you have any more questions, get in touch with us right away. Our experts can help you with apt answers. Do not forget to check out the merchandise section of the website. It has some great apparel to showcase your love for specialty coffee and premium coffee beans. Join the java moment today!