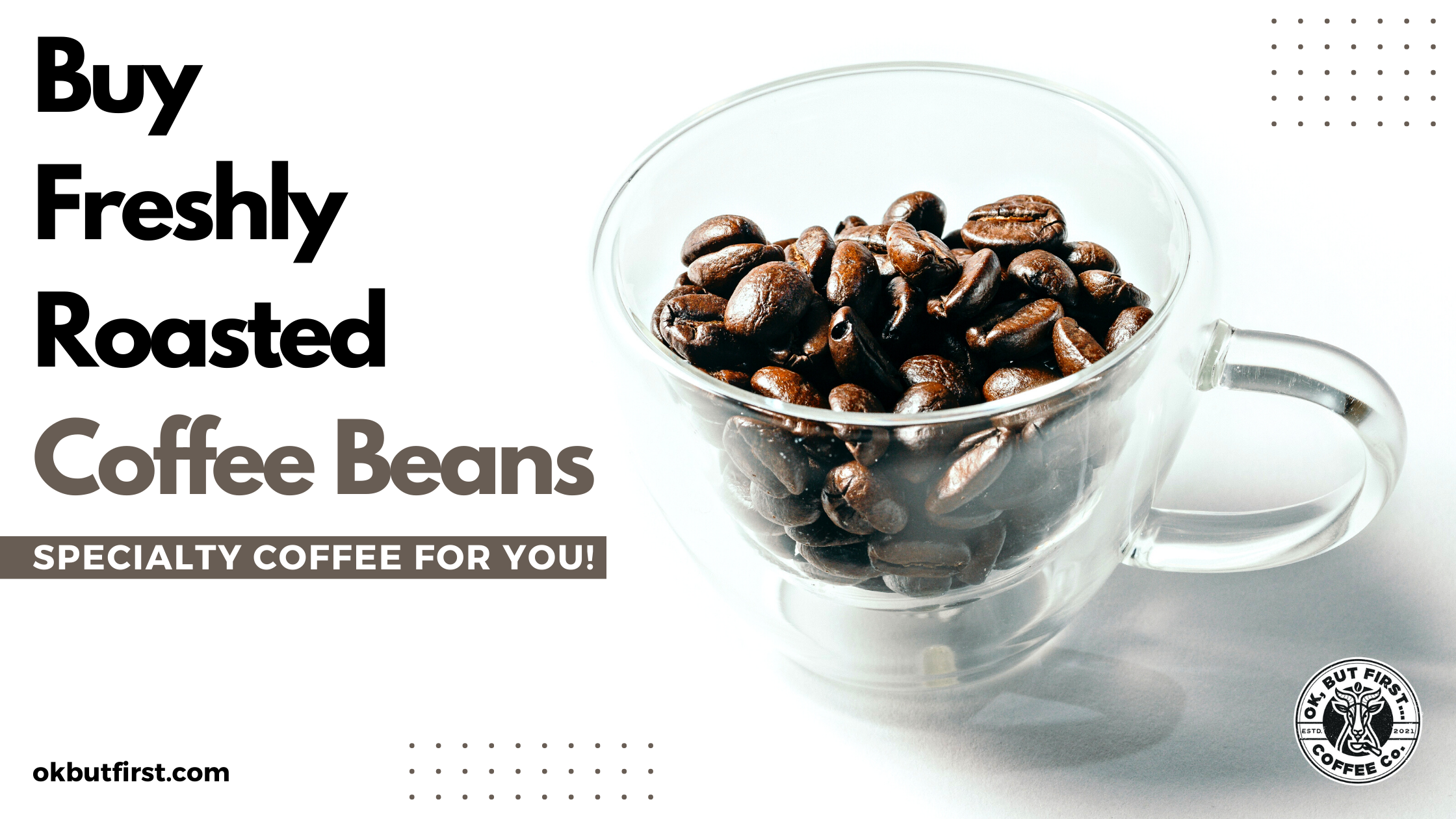 Buy Freshly Roasted Coffee Beans - OK But First Coffee
What makes coffee the most loved beverage across our planet? Why is it one of the most traded commodities in the world? I think the answer is pretty clear. Caffeine! The kickstart nectar that many need to start their days. Moreover, the beverage offers a variety of health benefits.
Well, we are here to talk about specialty coffee beans. A product that has started trumping instant coffee in many nations. They may not have the highest amount of caffeine, but they do pack a punch that can get you through any situation effortlessly. For your information, the major difference between specialty coffee and instant coffee is the type of beans used to make them.
Specialty coffee is the by-product of responsibly sourced Arabica coffee beans, whereas instant coffee is the by-product of mass-produced Robusta coffee beans. Arabica is a superior breed as it constitutes an ideal balance between flavor, aroma, and acidity, while the Robusta has a high amount of caffeine, but tastes rubbery and oozes out a substandard aroma.
Are you looking for a web store to buy freshly roasted coffee beans online? Check out the OkButFirst Coffee site right away. This whole bean coffee company offers three artisan-crafted products capable of taking your breath away! Place an order to experience true nirvana.
"Set the pace for your day with specialty coffee beans".
Moving forward, if you are new to the roasted coffee beans scene, read till the last period. We'll be covering almost everything about this heavenly commodity. In addition, the blog will also provide helpful tips to make the process of buying coffee beans online easier for you.
For the ones who haven't yet ordered a pack of specialty coffee beans, you are missing out on one of life's greatest pleasures. It comes in small packs, and costs a little extra than instant coffee, but the satisfaction it provides is beyond explanations. Note; any coffee bean that receives an 80 or above rating from SCA (Specialty Coffee Association) is specialty coffee.
Many feel that their cup of joe made for instant coffee sachets is enough. Why shell out the extra bucks for coffee beans? It requires a tool, time, and effort to grind. Well, the process is incredibly satisfying if you ask me, and the benefits you get from Arabica coffee beans leave a positive impact on your health for a lifetime. It's just wiser to opt for beans than grounded coffee.
Purifying Antioxidants
Responsibly sourced coffee beans carry a number of antioxidants to help your immune system fight free radicals in the body. They lower the chances of procuring certain forms of cancers and diseases pertaining to the skin, mouth, and pharynx.


Stabilizes Body Glucose
A few studies conducted on diabetic rats conclude that coffee beans helped lessen their glucose levels. It lined them up for potential treatment for type-2 diabetes in humans.


Lowers Risk Of Tooth Cavities
Arabica beans go to war with the bacteria in your mouth. They fight off lactobacillus acidophilus as per studies. It happens because of a perfect balance between chlorogenic acid and caffeine. Strengthen your 32 choppers with a delightful cup of java!


Nutrient-Full Beverage
There are several nutrients in one cup of specialty coffee to boost your health. It includes magnesium, niacin, manganese, riboflavin, and potassium. It also hastens metabolism.


Increase Mental Strength
Lastly, a coffee cup is ideal for blue days. The Arabica beans offer an energy punch like no other berries. They can help you get through tough situations and also provide bliss when needed. It also assists in alleviating the symptoms of depression.
As stated at the beginning of this blog, the best source to buy coffee beans online in the US is OkButFirst Coffee. Headquartered in Parlin, New Jersey, this specialty coffee beans company offers three premium coffee products and merchandise at remarkably sharp rates.
The must-buy coffee products are:
Mornin' Kick
A pack that contains full city (profile) roasted coffee beans straight from Columbia. The special ingredients used to add flavors are Brazil nuts, grapefruit, & oak.


Midday Stroll
A pack that contains full city+ (profile) roasted coffee beans straight from Central America. The special ingredients used to add flavor are brown sugar, hazelnut, & plum.


Chill Thirty
A pack that contains French (profile) roasted coffee beans straight from Brazil. The special ingredients used to add flavor are smoky raspberry, dark chocolate, & anise.
The best-selling merchandise products are:
Hooded Sweatshirt
Cool apparel made from ultra-soft tri-blend fleece. It comes in four sizes and is matte-black in color. The front presents a catchy statement whereas the back has the OKBF logo printed on it. It's perfect for coffee nights in the woods with your pals.


Twill Trucker Hat
Tailored in a classic fit using garment wash cotton twill. It features an unstructured crown and a fully curved visor. One can adjust its size as per need. It presents the OKBF logo on its front and the company site link on the back strap. Best for sunny mornings.


Long Sleeve Tee
A luxurious tri-blend jersey made of polyester, cotton, and rayon. It comes in two colors, one grey and the second dark blue. Its front presents the OKBF logo, whereas its back has the site link printed around the round-neck collar. Great for coffee roaster events.
Imagine, you wake on a pleasant morning, step down from your bed, walk to the kitchen, open up the pack of specialty coffee beans, relish the soothing aroma, grind a few beans, hear the satisfying cracking sound, make your cup, sit on the barn outside, and enjoy your daily punch overlooking the roadside happenings, with chirping bird noises in the background.
Now, wonder it all without the efforts of going out and buying these coffee beans or even placing an order every month. OkButFirst Coffee brings to you a coffee calculator, alongside the best subscription plans. Measure your needs, pick your packet, opt for a relevant subscription plan, and savor your fresh java without worries. The doorstep deliveries will keep bringing in your favorite beans on time, at discounted rates, with delightful surprises from time to time!
The four main perks of joining the elite OKBF coffee club are:
Free Shipping
Up To 10% Off
Delivery Scheduling
Freshly Roasted Batches
OkButFirst Coffee is more than just a roasted coffee beans company. It is a family of specialty coffee enthusiasts who share experiences and create memories. Furthermore, the company has deep connections with the best coffee farmers. Their collection comes from carefully selected exotic coffee farms. The ultimate motto is to deliver coffee that connects humans worldwide.
Conclusion
In the end, I hope you have all the information you need to buy coffee beans online. The OkButFirst Coffee web store is a budding venture and takes extra care at every step of processing the beans. If you have any more queries, go through the Coffee 101 section to resolve them all. The content will help you understand coffee beans more intricately. As quoted, "May The Coffee Be With You". Order now, because life tastes better with a cup of joe.